Come and read about beautiful baby Pipers newborn session. I absolutely adore my job. I mean, who wouldn't want to snuggle precious babies and then get to sleep all night long (sorry new mama's, I've been there too!). Baby Piper came in for a newborn mini session. These sessions are short and sweet and oh so precious. We keep the babies wrapped the entire time so they stay nice and snug (…. and asleep). It makes it easy to capture this stage  when they are so tiny and get some really lovely newborn portraits.
Piper was a dream baby. She really was so good for me the entire time she was in the studio. And just look at her, she is so so pretty. I love when babies sleep really well because then I get to chat more with the parents. Pipers mom was just as nice as can be and so in love with her new little bundle of joy.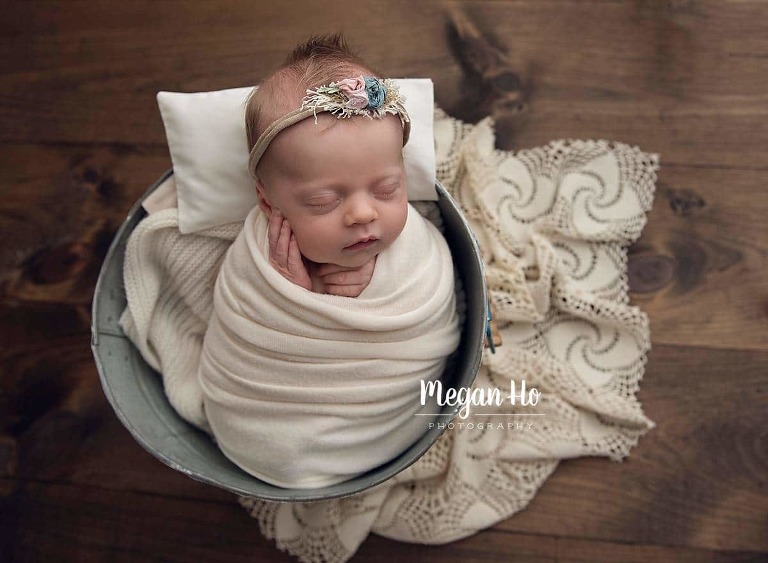 For more information on booking a newborn session, please use the contact button above. Newborns are best booked in the second trimester but I sometimes can accommodate last minute availability.
Please follow me on facebook and instagram to see some of my more recent work and sneak peeks.
Megan Ho Photography is a Southern NH newborn photographer located in Bedford, New Hampshire. Megan is a newborn, baby, maternity, family, and child photographer serving Southern New Hampshire, Boston, Massachusetts and the surrounding communities.